Coastal wetlands are facing unprecedented levels of degradation, heightened by climate change effects, rising human population and high poverty levels. On Africa's East Coast, the ecosystem, a major support system for local communities and biodiversity, is at a critical stage and adequate implementation of management plans need to be established for sustainable development.
Marked every 2 February, World Wetlands Day (WWD) presents an opportunity to assess and interact with the immediate wetland users – mainly the local communities – to discuss about the role of wetlands in their livelihoods, and what needs to be done to curb the persistent degradation. Stakeholders in Lamu embraced this year's theme of Wetlands Action for People and Nature by customising it with the slogan Our Wetlands, Our Responsibility, Our Future.
Coordinated by the National Environment Management Authority (NEMA) in collaboration with stakeholders including Wetlands International (WI), the one-day event in Lamu County entailed a clean-up, mangrove planting and speeches.
Plastic Menace and Mangrove Restoration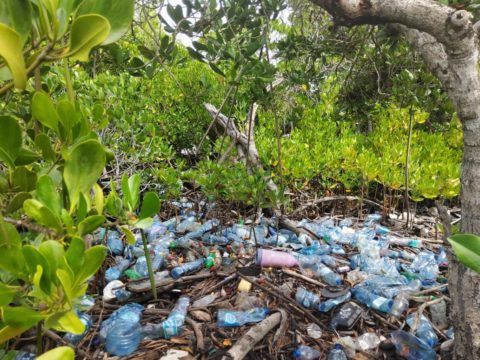 Plastic pollution is a global concern for marine life and the environment in general. In Lamu, plastics are a major problem as they cause ecotoxicity within the living system, kill biodiversity, despoil oceans, and are generally an eyesore.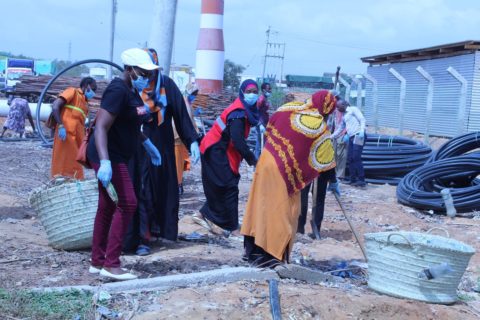 A clean-up that targeted plastic refuse clogged in wetlands was one of the remarkable undertakings during this day. Participants highlighted their views on interventions to limit environmental pollution by plastic refuse. The locals were appreciative of the action taken by NEMA to ban single-use plastics, citing that if alternative means can be obtained, single-use water bottles should follow suit. The clean-up netted three tractor-trailers of plastic refuse from the surrounding mangrove forest and the beach which was then transported to Lamu Municipality's solid waste disposal site.
Lamu holds the bulk of Kenya's mangrove forest, classified at 60% of the total mangrove cover. This ecosystem is listed as one of the most productive areas of marine ecosystems but is facing degradation, mainly due to human activities and climate change effects.
To curb this problem, various approaches to mangrove restoration has been advocated. Restoration of mangroves is a continuous process and over the past ten years, numerous organisations have invested and continue to carry out activities geared towards recovery and conservation of mangroves. As part of WWD celebrations, the Kenya Forest Service and Kenya Forest Research Institute organised mangrove planting in the degraded area of Mokowe Jetty. A total of 3300 mangrove seedlings were planted.
The event wouldn't have been complete without the sharing of views on the management and restoration of Lamu and the surrounding wetlands. Representatives from Lamu County Government and County Commissioner, Mohamed Baishe and Nobert Bii respectively, emphasized the importance of conserving wetlands. Bii urged all the stakeholders to continue raising issues of importance and help in mangrove restoration activities. He cited that the impediment to wetland management is inadequate awareness among the local communities and requested the stakeholders to ensure that the resident communities are at the epicentre of restoration and monitoring of resource use. A sentiment that echoes Wetlands International's core mandate to work closely with the local communities for the betterment of wetlands. A case in point is the Source to Sea initiative, which is eliciting promising feedback from the stakeholders. In addition, Baishe urged the community to take personal initiatives in planting, protecting and ensuring that the existing mangroves are not entirely degraded.