Wetlands International, in collaboration with Abim District Local Government and Community Tree Planting Program of National Forestry Authority, has kicked-off a one-month tree planting campaign to restore the degraded water catchment areas in Northern Uganda. Targeting 76 registered tree farmers, the campaign, aimed at improving community livelihood and resilience, and environmental health, will establish 90,000 tree seedlings in 95 hectares in the Aswa Wetland Basin.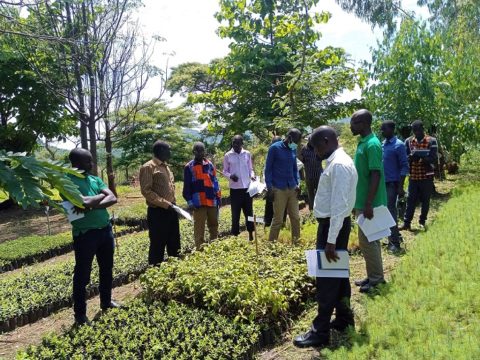 The tree planters are drawn from community and government institutions including schools, health centers, churches, irrigation scheme, prisons and police, among others. The seedlings are varied including fruit, fodder, indigenous, and naturalized fast-growing trees ideal for agroforestry. Technical assistance and financial support to the tree growers range from delivery of seedlings to the farmers, technical specifications on pitting, lining and planting, and maintenance.
Covering an area of ​​27,601 Km 2 , Aswa Wetland Basin is part of the Nile River system located in north central Uganda. River Aswa is the main river system – with two tributaries Moroto and Agago Rivers – that flows northwest into South Sudan to join the White Nile. Aswa Wetland Basin is a key source of water for domestic use, firewood and charcoal, pasture and water for livestock, agriculture, fish, raw materials for the local handcraft industry, products of the shea butter nut, clay and sand for construction, and its potential for hydro-power generation.
Despite these immense environmental and socio-economic values, this catchment area is degraded by human activities leading to increased siltation, reduced water flow volumes and water quality, and declining ability to check storm run-off and floods.
To address these challenges, Wetlands International Eastern Africa, together with other partners, is implementing a three-year Ecosystem-Based Disaster Risk Reduction and Adaptation project. It will use various methods and approaches to enhance community livelihoods and resilience while at the same time reduce risk against environmental disasters.