The Kenya Forest Service (KFS), together with the community, Wetlands International and other partners, has launched a campaign to restore degraded mangrove areas in the southern block of Lamu. KFS will plant 250,000 mangrove propagules, with Wetlands International providing an initial commitment of 2,000 seedlings for the launch. Lamu is home to about 145,000 people and harbours some 60% of Kenya's mangroves.
Forest restoration including mangroves is aligned with Kenya's commitment to restore 5.1 million hectares of degraded forests as part of the Africa Forest Landscape Restoration initiative (AFR100) that aims to recover 100 million hectares of forests by 2030.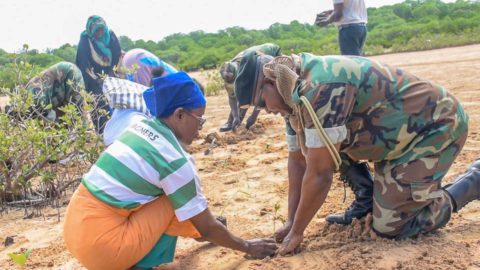 Speaking during the launch, Peter Mwangi, Lamu County Forest Conservator with KFS emphasised the need to not only conserve but also restore degraded mangroves in the County. He made a call to other partners to immediately support the campaign given the uncertainty of the duration of the long rains season.
"We are experiencing rains in Lamu now after a prolonged drought since 2019 which has affected many people and their livelihoods. This season is the ideal time to plant mangroves. KFS with key partners is accelerating the attainment of 10% tree cover from 2022 to 2030," said Mwangi.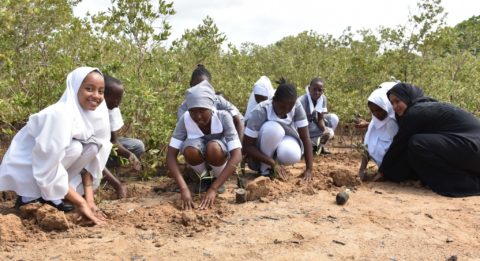 Shawlet Cherono, Project Officer at Wetlands International, underscored the need to conserve and restore mangroves at both local and regional levels. "Mangroves are one of the high-value wetland ecosystems for both people and nature. In Lamu, they are part and parcel of the communities' everyday life – for their livelihoods and provision of other services such as enhancing water quality, controlling erosion, maintaining stream flows, storing carbon and habitat for biodiversity. Therefore, there should be a balance between the protection and consumption of mangrove ecosystems.
"However, mangrove areas are progressively reducing, thus decreasing their services not only to human wellbeing but also to functioning economies. Therefore, it is imperative that we work together to restore mangroves. At Wetlands International, mangrove restoration activities are guided by the Community-Based Ecological Mangrove Restoration (CBEMR) approach where natural regeneration of mangroves is paramount as that has a higher success rate than mass planting.
"Where natural regeneration of mangroves is not possible, the CBEMR approach looks into the factors hindering natural regeneration such as poor hydrology, site history, pollution, socio-economic conditions, among others. CBEMR is cost-effective and efficient in the long-term and this campaign being launched today will utilise enrichment planting in sites where natural regeneration is not an option," stated Cherono.
Last March (2022), Wetlands International in partnership with Mangrove Action Project conducted practical training for 21 representatives from the community, government institutions and civil society on the CBEMR approach in Lamu.