Kyebe Sub County in Kyotera District, Central Uganda, harbours massive flood plains located in the low-lying areas along the shores of the pale blue waters of Lake Victoria. Kyebe forms part of the larger Sango Bay-Musambwa Island-Kagera (SAMUKA) wetland system in Uganda. To the south across the border in Tanzania, the wetland ecosystem spans to Missenyi District – that has the unique Minziro Natural Forest Reserve – and from where Kagera River meanders northwards to drain into Lake Victoria.
Endowed with a rich natural environment with a mosaic wetland ecosystem that ranges from swamp forests, seasonally flooded grasslands and carbon-rich papyrus swamps, the Kyebe community is reliant on this area mainly for subsistence farming, livestock production and fishing.
Sango Bay wetland system is a biodiversity haven. It is an Important Bird Area and supports a massive congregation of waterbirds including the blue swallow during the wintering period, white-winged black tern, grey-headed gulls and the majestic shoebill stork; has endemic plant species and is a breeding ground for various fish.  SAMUKA is one of the 12 Ramsar sites in Uganda.
However, the Sango Bay wetlands have been under incessant threat from encroachment. They are used for livestock grazing, extraction of papyrus and other building materials, farming, fishing and wood fuel, and more. Other threats are changes in land use, vagaries of climate change, declining soil fertility, rising soil erosion, drought and poor farming methods.
Kyotera District Local Government is engaged in a number of community development projects in Kyebe with critical interest in the communities living within or neighbouring fragile ecosystems such as forests and wetlands. These range from poverty reduction through agriculture, environmental conservation by increasing vegetation cover and sustaining bio diversity, health, among other projects.
To safeguard the Nile Basin's transboundary wetlands, Kyotera District Local Government is partnering with Wetlands International to implement Sango Bay-Minziro wetland restoration programme through community Sustainable Land Management (SLM) projects. These projects are part of the early investments activities as identified in the transboundary wetland management plan aimed at appropriate management of land, water and genetic resources and improved response to global environment challenges affecting food security.  The Natural Resources Department at Kyotera District started implementing SLM activities in Katongero and Minziiro communities in Kyebe sub county.
Green Borders: Farmer-to-Farmer Approach
Kiyingi Jamil, District Natural Resource Officer, together with his colleagues in the department at Kyotera and other stakeholders identified and trained 320 farmers in both Katongero and Minziiro communities from Kyebe. "This involved district and local leaders and Community Forest Management groups.  It was important to lay this solid foundation to also spell out the roles and responsibilities of all stakeholders on project implementation," stated Kiyingi. A key cog to this process involved enlisting the support of local leaders as they help in mobilising farmers, encouraging participation, site selection, resource mobilisation, among other aspects that are vital for the success of any community project.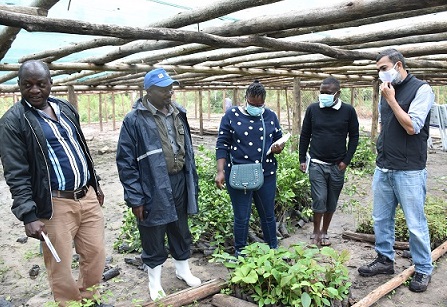 A tree nursery with capacity of over 200,000 seedlings has been established at the district headquarters. Most of the seedlings are fruit and indigenous species and coffee with plans to produce more seedlings for distribution and up scaling of the project activities as a sustainability strategy. The fruit trees will be used to boost both household nutrition and to earn income while the other trees will be for timber and wood fuel. Dubbed 'Green Borders' project, 100,000 bamboo and tree seedlings will be planted around the wetland landscape to demarcate its boundary as well as act as a barrier against soil erosion.
The project embraces the Farmer-to-Farmer approach which appreciates the farmers' knowledge and their ability to solve their problems together with advice from a facilitator. "Farmers are not empty vessels who only receive information. During the training, they made remarkable contributions on agriculture and other wellbeing issues. They have a lot of knowledge, experience and skills and when supplemented by SLM specialists, these prove to be vital resource for the project," said Jonan Rusoke, District Forest Officer for Kyotera.
"As with any other project, we have encountered a few challenges such as delayed implementation due to Covid-19 restrictions and the national general elections, and high and unrealistic expectations from the community which we managed to discuss openly.  The road network was also a challenge as it became impassable due to the rains and flooding," added Kiyingi.
Some of the positive outcomes, so far, is the high community's interest, hence the need for information and education materials and the Minziiro community offering to start a nursery to supplement the one at the district. Further, other farmers are interested in being part of the project which far exceeds the initial target, calling for more support to cover the increased demand.
The Green Borders project is ongoing in Sio-Siteko transboundary wetland, and is expected to roll on to other areas in future including Semliki Delta in both Uganda and DRC and Minziro in Tanzania.