Wetlands International, together with the Lamu Community Forest Association (CFA), has launched improved cook stoves (jikos) to reduce pressure on mangrove forests in Lamu County. 50 stoves have been provided on a cost-sharing basis with the community in Matondoni Village located north west of Lamu Island.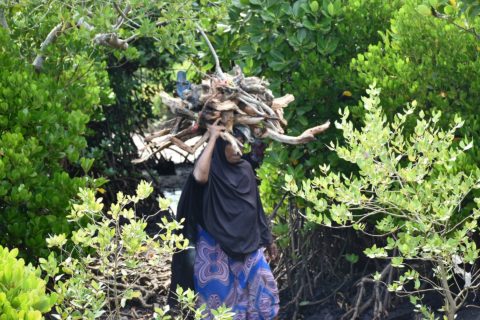 Like many communities, Lamu's community relies on fuelwood as the primary source of energy, a practice that not only degrades mangrove forests but also terrestrial vegetation. The traditional jikos, made up of three stones, are marred with extensive energy wastage. On the other hand, the improved cook stoves require small amount of wood hence energy-efficient and cost-saving. Besides being durable, they are also easy to ignite, have good heat retention and easy to maintain. They produce less smoke and therefore are not detrimental to the human health.
Speaking during the launch, Lilian Nyaega, Wetlands International Regional Programme Officer emphasised the need to not only restore degraded mangroves but to conserve what already exist. These small-scale energy systems not only help to reduce threats to mangroves, but also contribute to the achievement of our Nationally Determined Contributions.
"For the Lamu community, mangroves are part and parcel of their lives – for food, wood fuel, livelihoods, house construction, and provision of other services such as enhancing water quality, controlling erosion, maintaining stream flows, storing carbon and habitat for biodiversity. In our holistic approach to conserve critical coastal mangrove areas, we will work with the Lamu community to provide improved cook stoves to households residing proximate to mangrove forests in an effort to minimise the overuse of mangroves for fuelwood, which is one main causes of mangrove degradation in Kenya," stated Nyaega.
Lamuis home to about 145,000 people and harbours some 60% of Kenya's mangroves. These mangrove areas are progressively reducing, thus decreasing their services not only to human wellbeing but also to functioning local and regional economies.
According to a recent report on The State of the Western Indian Ocean Mangroves, the total area of mangroves in Kenya decreased from 54,990 ha in 1996 to 53,852 ha in 2016, representing an overall net loss of about 2%  over 20 years.
Lead image: Nyebwana Mohammed (left) with Sofia Shee of Matondoni cooking using the energy-efficient stoves