Wetlands International actively participated in the opening of the 8th edition of the marine and coastal regional forum of the PRCM currently on course in Praia, Cape Verde (2nd to 5th November 2015). The Chief Executive Officer of the organization made a presentation on ''Wetlands and Climate Change'' at the panel on the theme " the impacts of climate change on coastal and marine areas'' during which the moderator was the Regional Director of Wetlands International Africa.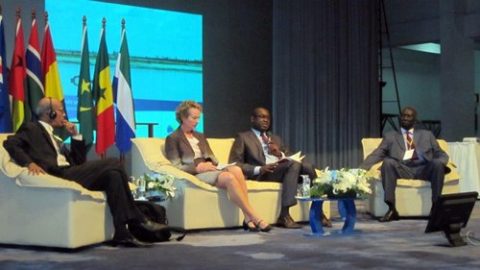 In her communication on "Wetlands and climate change," Mrs. Jane Madgwick, Chief executive officer of Wetlands International, strongly emphasized the need for an ecosystem approach while holistically taking into account the upstream and downstream issues of marine and coastal areas in the management of wetlands. Mrs. Madgwick recalled that a fruitful partnership between different stakeholders, including policy makers and the private sector, is essential before dwelling on the need to develop knowledge and build capacity of different actors. The CEO of Wetlands International calls for a consideration of climate change in the conservation and management of wetlands.
This very rich communication was appreciated by all participants in the forum. The debate was moderated by Mr. Ibrahima Thiam, Regional Director of Wetlands International Africa. The brainstorming that ensued from the debate has also helped to establish a frank discussion about the cultural dimension of climate change and the need for reliable scientific data in guiding the decision of policy makers.
Jane Madgwick, was speaking during the 8th Marine and Coastal Forum of the Regional Partnership for the Conservation of Coastal and Marine in West Africa (PRCM), that opened yesterday Monday, November 2nd, 2015 in Praia, Cape Verde as part of the panel entitled "Impacts of climate change on coastal and marine areas". The panel was attended by Ms. Jane Madgwick, Wetlands International CEO, Professor Salif Diop of Cheikh Anta Diop University (UCAD) in Dakar and Mr. Ould Abdelkader Issemou, former MP and former Minister in the Republic of Mauritania.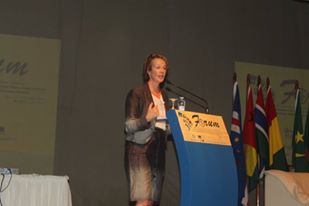 The opening of this periodic meeting was chaired by the Speaker of Cape Verde's National Assembly, Mr Basilio Mosso Ramos flanked with Ms. Jane Madgwick, CEO of Wetlands International and Jean Marc Garreau, Chairman of the PRCM Steering Committee. One hundred participants took part in this forum for dialogue and mobilization of stakeholders.
The theme of the 8th edition of the Forum is "Actors coastline: let us mobilize to climate change."
The founding organizations of the PRCM are Wetlands International, IUCN, WWF and FIBA.
Member countries are Cape Verde, Mauritania, Senegal, Gambia, Guinea-Bissau, Guinea and Sierra Leone).