Kenya hosted the 41st Water, Engineering and Development Centre (WEDC) International Conference at Egerton University in Nakuru County from the 9th to 13th July 2018. WEDC is a comprehensive and interactive learning event, which provides continued professional development for water, sanitation and hygiene (WASH) sector professionals.
The conference themed, Transformation towards sustainable and resilient WASH services attracted over 400 participants working in the Water and Sanitation sector, research institutions, practice and policy communities across more than 40 countries. The conference had two days of capacity building workshops and three days of presentations and discussions of peer reviewed content. Under this theme, the conference seeked to help delegates share knowledge and experiences between low and middle income countries, who face similar challenges and working contexts. The Conference also worked as a platform that would provide strong practitioner focus and field based experience sharing alongside more conventional academic findings from different regions. WEDC 2018 would also to a large extent facilitate the development of skills that can be used to mitigate some of the challenges facing those involved in the provision of Water, Sanitation and Hygiene (WASH) services.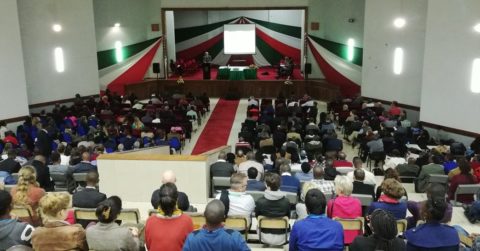 Among the participants at the conference was the Kenya Watershed Work package, a consortium of nine organizations both local and international namely; Kenya Water and Sanitation Civil Society Network, Wetlands International, Kenya Water for Health Organzation, Neighbours Innitiative Alliance, CESPAD, Akvo, Mount Kenya Ewaso Water Partnership, Laikipia Wildlife Forum, Simavi and IRC. The Watershed empowering citizens programme is a strategic partnership between the Dutch Ministry of Foreign Affairs and IRC, Simavi, Wetlands International and Akvo that seeks to contribute to sustainable WASH for all and water resources management through CSO capacity development, policy influencing and knowledge management. The Consortium had a session on universal and equitable access to sustainable water, sanitation and Hygiene services for all by 2030: Emphasis being on whether Civil Society Organizations can ensure that no one is left behind.
This conversation was largely informed on the background that Sustainable Development Goal 6 targets call for inclusive and sustainable access to safe and adequate WASH services for all by 2030. Watershed Kenya therefore felt the need for participants to address the issue of living no one behind in accessing WASH services as a governance challenge that we must all candidly speak about. Watershed Kenya used this platform to share on its experiences in trying to ensure inclusive services. Issues surrounding the existence of credible and justifiable data on exclusion, the role of government in ensuring that no one is left behind and fundamentally the role of Civil Society on the same took center stage during the plenary sessions. As the discussions and presentations progressed, Participants attending this session unanimously agreed that the most effective way to support the disadvantaged groups to raise a strong voice to policy makers and duty bearers to improve inclusivity is by empowering CSOs in the WASH sector. It was also highlighted that Civil Society and Government and the public as well must work very closely in the quest for finding avenues that would ensure social inclusion.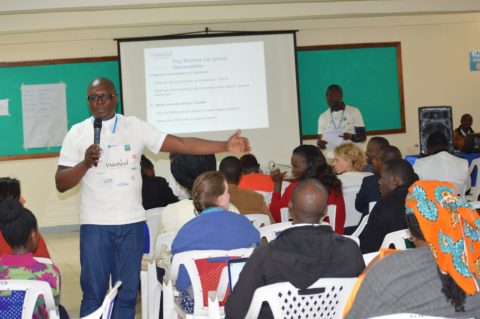 Participants as well agreed to the fact the issue on the existence of data on exclusion cannot be overlooked. As a result, therefore there is need to have disaggregated data of the excluded for us to be able to effectively plan and reach the vulnerable. A key point to note from the session was that inclusion goes further than just enabling access to WASH services but also ensuring that participation of the excluded in project design & implementation is sufficiently enhanced.
Story by Benedict Erick Omondi – KEWASNET (Watershed Partner)