The Ministry of Natural Resources and Tourism, Tanzania Forest Services Agency (TFS) and Wetlands International, in collaboration with other stakeholders, have convened a high-level conference to identify key issues in the conservation and restoration of blue carbon ecosystems for sustainable provision of services to people and nature. Dubbed Living Blue, the conference also aims at building synergies among different stakeholders in the protection and management of blue ecosystems.
Blue economy and blue carbon ecosystems concepts are relatively new in mainland Tanzania, and there exist challenges and gaps in information on how to scale them up. With 48.1 million hectares forest cover (woodlands, catchment forests, coastal forests, forest plantations and mangroves), the country is regarded as one of the potential countries for climate financing. However, the exploitation of this opportunity has been limited, with no carbon credit benefits accrued from the blue ecosystems which include mangroves and sea grass to date in mainland Tanzania.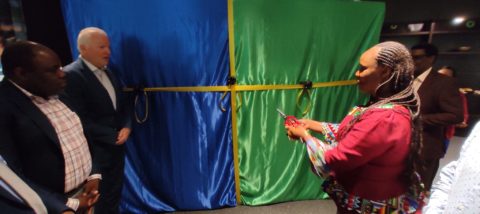 The two-day conference was opened by Mary Masanja, Deputy Minister, Ministry of Natural Resources and Tourism, and flanked by Deusdedit Bwoyo, Director for Beekeeping Division, Professor Dos Santos Silayo, Chief Executive of Tanzania Forest Services Agency, Dr George Rusingisha, Wetlands International Tanzania Board Member and H.E. Wiebe de Boer, Ambassador of the Embassy of the Kingdom of the Netherlands. Also in attendance were senior government officials, community representatives, development partners, research institutions and academia, and civil society organisations.
According to Ms. Masanja, the loss of mangroves and other blue ecosystems have an impact on the development of the blue economy. "We are losing the blue ecosystems to human activities such as unplanned agriculture, fishing and salt production, and livestock incursions in mangrove areas.  If we are to reduce new emissions of carbon into the atmosphere, collaborative efforts are essential to increase effective and equitable protection of mangroves as well as to expand their restoration" stated Ms. Masanja.
Estimated at 5% (212,020 ha) of Tanzania's forest cover, blue carbon ecosystems are widely known for their contribution to human society and nature. Local communities depend on these biodiversity-rich ecosystems for food, building materials, wood fuel and as a source of livelihoods. In addition, blue carbon ecosystems are known to store up to five times carbon dioxide the rate of terrestrial forests. Experts estimate that carbon emissions from mangrove degradation account for up to 10% of emissions from deforestation globally, despite being 0.7% of land coverage.
The Blue Economy has diverse components including a variety of services provided by these ecosystems such as carbon capture and storage, coastal protection, waste disposal, and biodiversity support. Despite the Blue Economy having been identified as a priority agenda by mainland Tanzania, there has not been full focus on harnessing blue carbon ecosystems.
In his opening remarks, Dr. Fredrick Mngube, Wetlands International Tanzania Programme Coordinator, noted that mangroves are being lost at a rate of 2% annually according to The State of World's Mangroves Report 2021. "We are already feeling the heat of the climate crisis – rising temperatures, prolonged droughts, heavy floods. In the race to net zero targets by 2050, we need to ensure that the loss of these ecosystems is halted, appropriate restoration undertaken in degraded areas and sustainable livelihoods approaches are locally embraced. These contribute to the achievement of Nationally Determined Contributions. Together with TFS and the local administration and communities, we are implementing this three-pronged approach in Rufiji delta," stated Dr Mngube.
With support from DOB Ecology and the Swedish International Development Agency (Sida), Wetlands International has been working with key stakeholders in the protection and restoration of mangroves in the Rufiji delta. With an area spanning 53,355 hectares and home to about 45,000 community members whose lives are closely intertwined with the mangroves, Rufiji Delta is the largest of its kind in the east coast of Africa.
Lead image: Mary Masanja, Deputy Minister, Ministry of Natural Resources and Tourism with Wiebe de Boer, Ambassador Embassy of the Kingdom of the Netherlands and other guests unveiling the Living Blue conference