Amadou Sow, president of the Inter Villager Association (AIV) of Ndiaël returned in glory from Bonn, Germany, with the 2015 AEWA Prize received on Monday, November 9th. This distinction which is the fruit of the conservation efforts by AIV of the reserve's avifauna was presented this morning to the Africa Regional Director of Wetlands International, Ibrahima Thiam and his staff in Dakar, Senegal.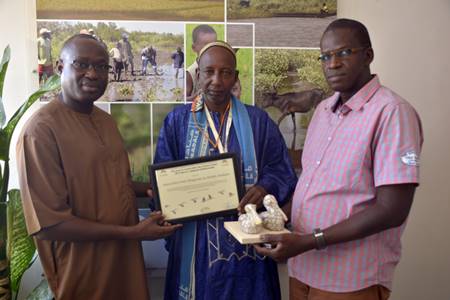 It's a happy President who walked into the regional office of Wetlands International Africa based in Zone B in Dakar, Senegal this Wednesday, November 11th, 2015 at. Dressed in a blue African grand boubou well starched, with the badge on the neck, Amadou Sow, who freshly returned from Bonn, Germany, presented to Mr. Ibrahima Thiam and his organization's staff, the 2015 Award of the Agreement on the Conservation of African-Eurasian Migratory Waterbirds (AEWA), won this year by the Inter Villager Association (AIV) of Ndiaël. The award goes along with a board supporting a representation of two birds as a symbol of AEWA. This international recognition rewards the efforts of the association " for its outstanding contribution to the implementation of AEWA in the areas of conservation of species and habitats, management of human activities, research and monitoring, and education and information''.
Mr. Sow is happy and proud that his organization was chosen as the winner of the 2015 edition. "I thank and pay tribute to Wetlands International in the framework of Ecosystem Alliance Program and AW with Living on the Edge which help us to have this prestigious consecration and all the partners who worked with us in the past years such as the Biodiversity Project Mauritania-Senegal and Compact Project among others," he said.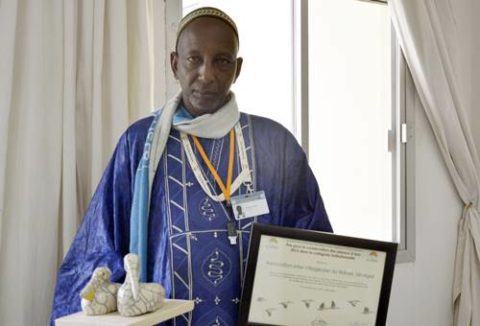 Mr. Ibrahima Thiam, the regional director of Wetlands International Africa, on his part welcomed the fruitful partnership between his organization and AIV Ndiaël which led to this award. " Today we celebrate the 2015 AEWA Award; other consecrations will follow in the future. We hope that this international recognition brings future success, " he said.
The AIV brings together 32 local villages living in the Special Reserve avifauna Ndiaël and its periphery. It collaborates with partners such as Wetlands International for the rewetting of this Ramsar ailing site.