The Ramsar Centre for Eastern Africa (RAMCEA) on Tuesday 10th November 2015 marked yet another important milestone by approving, adopting and signing the Rules and Regulations to govern all the operations of the RAMCEA.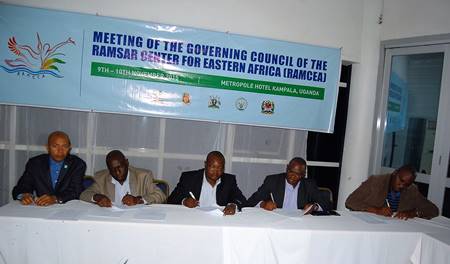 The Governing Council also approved the RAMCEA work plan for 2016 and the medium term. This climaxed a two day meeting of the RAMCEA Governing Council that was held in Kampala Uganda from 9th to 10th November 2015. This gathering was attended by Heads of Administrative Authorities from the Republic of Burundi, Republic of Kenya, United Republic of Tanzania and Republic of Uganda.
The signing ceremony was witnessed by Regional Officer for Africa Mr. Rasamoelina Rakotomamonjy and International Organization Partners operating in the Eastern African region namely IUCN, Birdlife International and Wetlands International.