Wetlands International Kenya with support from the Critical Ecosystem Partnership Fund (CEPF) and in collaboration with the Water Resources Authority (WRA) facilitated Organisational Capacity Assessments (OCA) for twelve Water Resource Users Associations (WRUAs) in Meru, Murang'a, Nyeri and Kirinyaga counties in the months of April and May 2018. WRUAs are Community Based Organisations (CBOs) established under the Water Act, 2016, Laws of Kenya for collaborative management of water resources and water conflict resolutions at sub-basin level.
The four-day exercise held in Meru and Nyeri brought together 55 men and 43 women from the 12 WRUAs who manage water resources at the local sub-basin level to assess their organisational and technical capacity through a participatory process, which resulted in the development of capacity building plans. Wetlands International Kenya and WRA will together with the WRUAs use these action plans to support WRUA capacity development over time to address challenges facing the Upper Tana Catchment area. OCA is a comprehensive and highly participatory approach to achieving organisational change, learning and development that supports organisations to measure their performance, priorities organisational challenges, and implement improvement strategies.
The assessments are the first step in the ongoing process of WRUA capacity strengthening, that include components related to organisational cross-learning, benchmarking, action-planning and continuous improvement to ensure inclusivity and effective water resources governance in Kenya.
Some of the key issues identified were: The need to revise outdated Sub-Catchment Management Plans (SCMPs) in line with changing needs such as climate change, flood management and livelihoods; and to develop resource mobilisation strategies to support implementation of these plans. The idea of forming an umbrella association for all the WRUAs in the Upper Tana Catchment to support their lobby and advocacy interventions was also birthed at this event.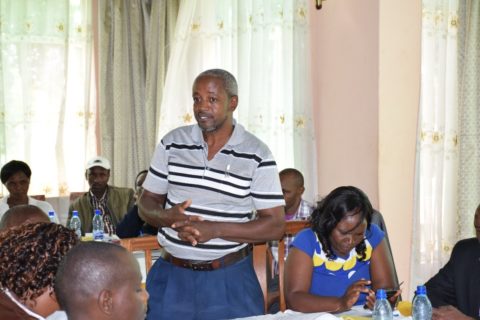 'This exercise has not only assisted us to reflect on our WRUA's strengths and weaknesses, but has also provided an opportunity learn from other WRUAs on areas and methods of improvement' Phares Kabugi, Ragati River WRUA Chairman. The Upper Tana Catchment covers a significant proportion of Central and Eastern regions of Kenya including two of Kenya's major water towers – the Aberdare Range and Mount Kenya – and forms the headwaters for many of Kenya's largest rivers such as the River Tana. While the catchment is an economically vital region for agricultural production, livestock and wildlife affecting both upstream and further downstream across a large expanse of arid and semi-arid lands, the Upper Tana is plagued by degradation due to a high demand for ecosystem services occasioned by human encroachment and the excision of government forests to expand agriculture, illegal logging, and livestock incursions into the forest, charcoal burning, and forest fires.
Through the partnership with CEPF, Wetlands International Kenya will include a collaborative landscape approach that will be done through stakeholder engagement involving key decision makers at the county level (Kirinyaga, Meru and Nyeri), and empowerment of WRUAs who will lead efforts to address priority shared risks. Ultimately, it is expected that together, the stakeholders will act as water stewards to ensure water resource use patterns in the Upper Tana Catchment area are regulated, controlled and monitored; sustainable water management enhanced, and natural water flow regimes protected.